Projectors
10 Best Projectors Under $500 You should Check for 2020

Rank
Ratting/Shops
Ratting
Shops
Pros
Wide throw range
High color reproduction
Long bulb life
Many connectivity options
Broad screen size
Clear and crisp images
This product is well designed having advanced visual features. View Sonic PA503X XGA has amazed the audience with its 1024 x 768 HD resolution giving breathtaking audio and video experience. The sharpness and lucidity of its images are awesome. Its super color technology sets it apart of the crowd by featuring a 6 segment color wheel.
Being one of the HD projectors under $500, it supports a maximum resolution of 1080 P.As it's maneuverable, the DLP format projector can be adjusted near or far away, Having a screen size range of 30-300 inch makes it best suitable for both outdoor and indoor entertainment. Offering a 3D output adds more to its specs.
As its boosting a 3.9-43 feet throw range, its ideal for using in the office, as a home theatre, or even an outdoor projector. Offering an outstanding brightness of 3300 Lumens, it assists in enjoying a movie in the dark. Providing tons of connectivity choices, it supports HDMI, RCA, and VGA too.
Conclusion
Exceeding both in features and build quality, its long lamp life and sturdy built material make it one of the best 1080 P projector under $500. With the availability of many connection options, it's easy to hook up this projector to any device you want.
Pros
Lightweight
Vivid colors
Easy setup
HDMI support
Portable
Cons
Average speaker
No Bluetooth connection
Epson delivers what it claims. Being a leader in the projector technology it allows connectivity in a variety of ways. The Plug and play feature of this lamp like a projector and its connectivity options brings it among the list of home projectors under $500.
The SVGA resolution and high lumen count help produce crystal clear pictures by lighting up both dim and bright rooms equally. The 3200 lumens is being both for color brightness and white brightness. Having a native resolution of 800×600, it supports a maximum of 1080p resolution. It gives one of the best contrasts with a screen size of 30-350 inches.
The Eco mode feature lengthens its lamp life along with reducing the maintenance cost and frequency .this feature increases the lamp life from 6000 hours to 10,000 hours. This projector under $500 is a hassle-free device as it assists the ease of wireless network connectivity. The keystone correction feature automatically aligns the image. For your privacy issues, it offers password protect feature.
Conclusion
Its fast and easy setup along with lightweight design makes it Ideal for everyday presentations. Providing quality assurance at this point, its specs are hard to beat, bringing it among the list of home projectors under $500.
Pros
Large screen
Long bulb life
Highest native resolution
Clear and crisp images
Lightweight
VIVI Bright P100 projector supports both LCD/LED technologies. Though being a bright projector; it still has a long lamp life of 30,000 hrs. This home theatre projector gives an optimal screen size of 35-280 inches and can be used on a large screen having built-in speakers too.
With 1280×800 pixels, it is having the highest native resolution in its class. Images large as 200 inches can be displayed in the comfort range along with guaranteeing high image brightness of 3500 lumens.
Being among the new projectors in the market, it supports multiple actions. Crafted out of premium materials, VIVI Bright GP100 has ease of connecting to a multitude of devices. This elegantly designed product is having a light weight of 2.2 kg and it's easily portable.
Conclusion
Having a great screen size and wide range throw distance, it offers excellent price/quantity ratio. Having the highest native resolution in its class, this home theatre projector makes it best for indoor use and small outdoor applications.
Pros
Easy setup
Lightweight
Brilliant colors
Easy connectivity
3 x wider images
Top notch build quality
Cons
Needs an external speaker
Serving as the first choice of many users, it is one of the best projectors for home theatre. Being easy on the wallet, Its 3 chip technology provides 3 x more color brightness. With the production of 1.07 billion colors, the color richness is praiseworthy in every image. The contrast ratio rises up the picture quality by a huge margin. Both white brightness and color brightness are supported by 3200 lumens.
Though it isn't suitable for a widescreen movie experience, it still assures a long lamp life of 10,000 hours. With all the bells and whistles, it is still one of the awesome projectors under $500. Supporting different types of external devices, it offers instant projection with the plug and plays feature.
Elevating a new level of portability and performance, EPSON EX gives 3 x more color gamut than other competitive projectors. You can now connect with a single cable for digital audio and video. With a convenient control at hand, you can have easy image adjustments too. For easy carriage, it comes with a bag.
Conclusion
Providing outstanding and quality images, this product by Epson is no doubt the projector for home theatre. It gives 3 x more color brightness and 3 x wider color gamut, if compared with competitors offering the same price, thus elevating a new level of portability and performance.
Pros
Ultra compact
Easy connectivity
Razor sharp pictures
Ultra-bright colors
Lightweight
Fast response time
Reasonable price
No doubt, Optoma ML 750 is an incredible value for money. Being unbelievably light and small, this ultra-compact LED projector is extremely portable. Weighing even less than 0.4 kg, it's incredibly bright and powerful. The 1280 x 800 WXGA resolutions give a breathtaking image quality. If you are searching for the projector under $500, this would be your safe choice.
Being a premium product, Optoma ML 750 is a pleasure to use. Having a ton of features, it impresses your audience in many ways. It's ideal for presentations at work, games and even watching HD movies. Having a built-in speaker, it inculcates the latest lamp-free technology producing reliable and Fidel colors.
Every part is crafted to make it more powerful. The 3D compatibility gives your games and movies mesmerizing 3D experience. You can even project without using a laptop by using its built-in memory. A USB connection or micro SD slot would also do the job. It can easily connect to and display by using a mobile or a tablet.
Conclusion
Despite having a low price, Optoma ML 750 has a significant impact on the projector market having a magnificent color accuracy and razor sharp focus. Being a perfect choice for both business and entertainment, it's no doubt one of the good HD projectors under $500.
Pros
Accurate colors
Sleek design
Powerful speaker
Large contrast range
Lightweight
Widescreen size and throw distance
View sonic PJD 5155 elevates a new level of portability and performance. Along with having a user-friendly and intuitive design, it is a price performance projector.
Its maximum supported resolution pops out up to 1080 P and it gives a native SVGA resolution of 800 x 600, making it a great choice for the 1080 Projector under 500. You also have a choice of 5 different view settings, for viewing a variety of scenarios.
It delivers rich and superior colors with the super color technology, giving a perfect choice for clear and crisp presentations, playing games and watching.
Even with brightness settings, you get a clear view of the 3300 ANSI lumens. It projects images with reliable color performance. With the power-saving eco feature, View sonic PJD 5155 reduces the power consumption.
Featuring extensive connectivity, it enables an ultra fast and versatile connection. Having an enlarged speaker chamber and a powerful amplifier, it produces an immersive sound with the sound enhancement technology. A good throw distance and a wide range of screen size add more to its specs.
Conclusion
View sonic PJD 5155 is perfect for small business and educational environments having flexible connectivity options and advanced audiovisual features. Being a price performance projector, you can get.
7. Epson Home Cinema 1060 HD
Pros
Ease of use
Built-in Wi-Fi
Portable
Exceptionally bright
Dynamic Contrast
Built-in speakers
Cons
Loud fan
Doesn't support 3D
Having a very basic and elegant design, this powerful machine gives you a1080p full HD entertainment. Epson Home Cinema 1060 HD is delivering accurate contrasts at even default settings, its brightness stands even at heavy lightning in the room.
As the display is having a consistent brightness of 79 percent, this projector aims at delivering maximum light output. It offers 1060 throw angle if compared to the competitors at the same price.
With projecting 3100-lumen rating and the innovative 3 LCD technology, it is one of the brightest projectors I have ever seen. The 2W inbuilt mono speaker performs well, easily filling a moderately sized room. It offers versatile connectivity features too. Having a built-in Wi-Fi, this projector can read from a USB key directly.
As you know with a brighter lamp, the fan will be louder. But with all the bells and whistles, it's still one of the best HD projector. With moderate weight, it's easy to carry it at work or for a movie night.
Conclusion
Delivering vibrant images with dynamic contrast, Epson home cinema 1060 HD is no doubt one of the best projector. If you want to experience a full HD entertainment, while sitting at home, this would be a safe choice for you.
Pros
Stunning display
Multiple resolutions
Easy setup
Large screen size
Intuitive operation
BEN Q MW 526 AE being budget-friendly provides a brilliant image performance. It gives a stunning display to your presentations with a high brightness of 3300 lumens catching every minute detail. In this price range, you can't buy a projector with better image quality than this.
It ensures crisp readability with its high contrast ratio. This projector can be easily used with all sorts of resolution and formats along with having an easy setup. It has the capacity to utilize a big screen as it can extend from 36-300 inches.
Having a small throw size as compared to other projectors, this is ideal for office use or classroom presentations. You have the choice of multi-platforms for expanded and multiple connectivities too. Thus this is one of the nice projector I would recommend.
Conclusion
This projector is ideal for commercial use and business presentations will leave you amazingly satisfied. If you are looking for the projector under 500 having brightness, resolution and great picture quality, you can get them all in BenQ 526AE.
Pros
Wireless HD projection
Versatile connectivity
High brightness
Exceptional contrast
Autokey stoning
Remote controlled functions
With Acer H5382BD you can make your personal multiplex at home for having a true cinematic experience. This elegantly designed projector gives you a full HD experience with 1920 x 1080 resolutions. Its lamp light lasts up to 5,000 hours in normal mode but with Eco mode, it goes up to 6,000 hours.
The wireless projection allows you to say goodbye connecting devices manually. This hidden gem is one of the projectors under $500, with an ambient light sensor for easy setup. The automatic flipping of images allows you to hang it on the ceiling. Having a mediocre weight, it's easily portable.
Keeping colors stable and true, color fidelity is dynamically maintained. You can use 3D glasses to have an immersive experience at home. Image contrasts are adjusted with the Acer dynamic black technology. Having great specs for the price it offers, its one of the great home theatre projector.
Conclusion
This is an excellent home theatre projector with a combination of many features at a reasonable price. For having a cinematic experience in this price range, its specs are hard to beat.
Pros
Built-in speaker
Automatic keystone correction
Quick boot
Wireless connectivity
Extremely portable
Lightweight
Solid build
Cons
Limited battery life
Doesn't support USB flash drive
This super compact device by Sony has a top-notch build quality along with a sleek design, fitting in your palm. Having 720 p picture qualities, this pocket-sized projector gives a continuous display of 2 hours when fully charged.
Being the awesome travel companion, it is best for work and at home giving you a premium feel. With 30 % white area and 40 lumens, it works perfectly in the dark. It's basically an indoor projector.
This praiseworthy projector focuses perfectly on uneven surfaces as well with autofocus doing a great job. For a wireless display, it supports wifi. The Bluetooth speaker connection helps you connect easily with external speakers.
While traveling, the handy cover keeps it protected. This solid unit by Sony elevates a new level of portability and performance. Though not full HD, you get a pleasant experience of watching an HD movie with 1920×720. You can even turn your projector into a power bank for charging your phone.
Conclusion
Finding a mediocre convertible is easy but for a premium experience, Sony portable HD projector is a run for its money. Providing focused and sharp pictures along with wireless connectivity.
Buyers guide
While searching for the projector, there are many key factors you need to consider. In this buyers guide, you will get a quick overview of all the key features before buying the best projector under $500.
Projector type
While searching for the projector, you have the option of two types of projector formats. You need to select among the DLP or LCD. Both of them are having different pros and cons so make sure to choose the one which suits your needs the best.
DLP: DLP projectors are really bright and offer sharp pictures. Being perfect for fast motion, they give you a great 3D experience too. On the other hand, they may be having some rainbow effects and might not render the dark colors good.
LCD: LCD projectors are good for dark colors along with being quite affordable. They are very bright but not ideal for 3D games or movies. Sometimes it makes the fast motion sequences blurry.
Resolution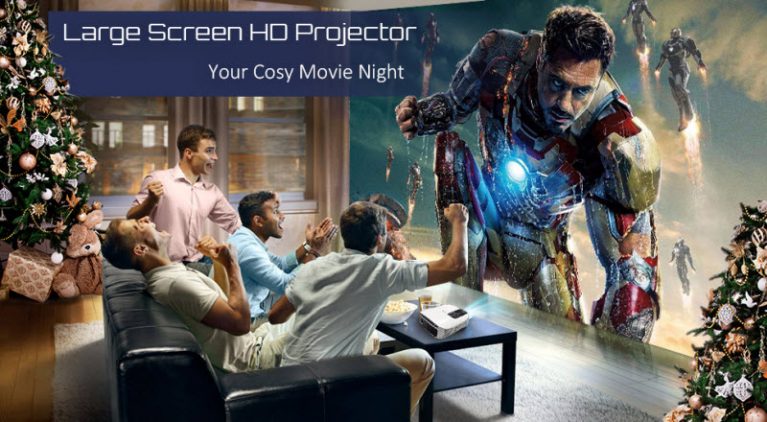 Resolution is very important in a projector than it's in a TV. A better resolution will give a better picture quality. A full 1080 P resolution is ideal for a projector which creates a detailed and big image with no visible pixels.  The 720 P projectors are a little softer sometimes giving you looking through a screen door effect. If you are looking for a top notch home entertainment experience while impressing you clients, you will need a projector which can handle high resolutions. Most of the projectors can only put on set amounts of fixed resolutions. So you need to search for a projector having a wide array of fixed resolution which can work with your needs.
Screen size
This is the minimum or maximum size of the projector which can be used for optimal viewing experience. This is in fact the size of the surface on which you are intending to project and the distance of mounting the projector from the screen.
Contrast
The difference between dark and light in an image is its contrast. It provides deep black levels and shadow details along with bright whites and dark blacks. If the difference is greater, the contrast will be greater too. So make sure to choose a projector having a high contrast range because with a poor contrast ratio you won't understand the significance of many videos shot in the dark and the image will be producing grey looking blacks with more washed out images. In this price range, 1,000:1 contrast or anything greater is good.
Brightness
This is the light output of the projector and is equally as important as the contrast ratio. As image brightness decreases with the image size, so the brightness not only determines how bright the image is but also tells the image size. You need to consider the brightness according to your location where you will use the projector because brighter isn't better always. A very bright setting of your projector will end you giving headache. If you want to use your projector in a lit room, then selecting a 3000 + lumens brightness would be perfect but if you want to use it in darkness or outdoors, even a 1000 lumens or dimmer projector can make the view clear.
Throw distance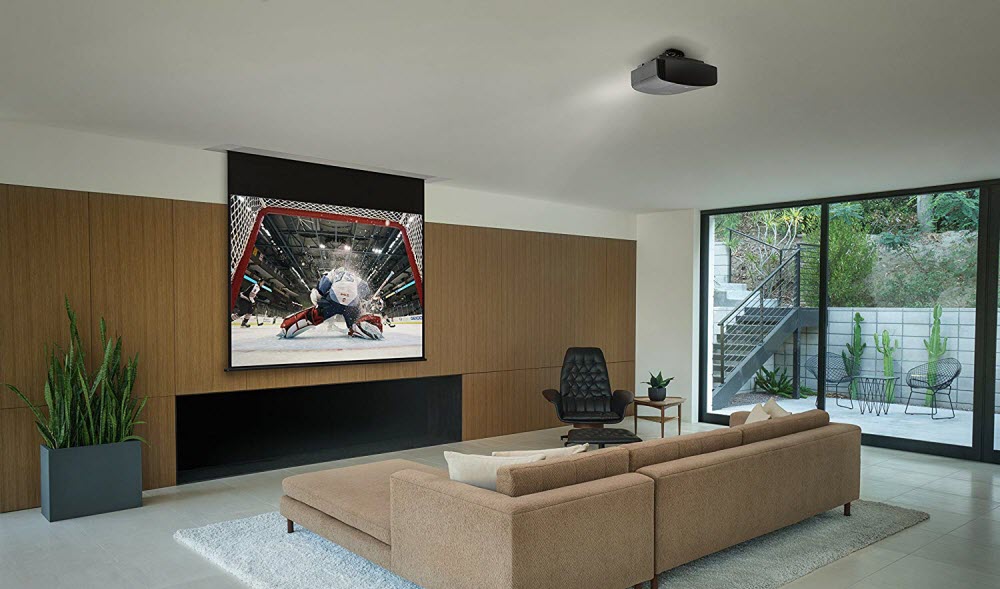 This describes the distance between the projector and the screen which will create a clear image. The range of some projectors starts from a few feet which may end to 15 feet or more in this price range. So you must know the distance requirements while buying a projector.
Color accuracy
For having a natural and more realistic view, color accuracy is very important. Many projectors create reds and yellow, unable of producing fully saturated colors. So you should pick the screen carefully as it affects the color accuracy.
Easy set up
Along with the image quality, you would also like to see the features which make the setup easier. So it's important to search for easy to operate projectors. A useful remote too is a very important feature.
Bulb life
Bulb is the projectors most expensive component. It is also really hard to switch out a bulb. This is why long bulb life projector is preferred and more expensive. In short you don't need to spend money on the new one quickly. A projector with at least 10,000 hours of life expectancy or anything higher would be ideal.
Connectivity
These days you can consider a wide array of connectivity choices while purchasing a projector. The popular connectivity options include HDMI cable (for a better quality picture), Bluetooth (which connects wirelessly), USB (for transferring data from a laptop or a tablet) or VGA (an older setup version for connecting). In short you must know which setup you want for easy and quick connectivity. Also make sure that the projector you have selected can handle it.
Lens zoom
If you want to use a portable screen and projector, this is of great concern because you will not always set them at the same distance. This lens zoom option ensures that you don't need to adjust the distance by moving it. Instead, you can zoom in the video simply with lens zoom. A throw distance of lens zoom 1 or less will make the projector easy to position in the room. With a larger throw ratio you cant get a large image as you would like to see.
Lens shift
With this option you can place the projector more flexibly below or above the screen making its installation easier.
Compatibility
You should select a projector which can play with certain computer formats because there are still many projectors which can't be used with the modern formats of MAC or PC computers.
Now that you have been through this detailed buyers guide, it will be easy for you to select the best projector from among the list we have mentioned above.
Final verdict
As home theater projector replicates the quality and picture of the film you normally prefer to see in a movie theatre, in its own unique way. Each product is unique in its own way of giving you the best experience out there. The choice of the product solely depends on what you expect from it and where you want to use it. So now you can wisely select the best projector according to your need.
Optoma ML 750 gives you a full-size projector's power and performance on your palm. This impressively brilliant projector weighs less than a pound and it targets traveling professionals giving you accurate magnificent colors and a razor-sharp focus. With high enough contrast and remarkably good colors, it is a top-notch projector in this price range.