Small screen with low-quality picture quality can ruin your home viewing experience altogether. As much as you're tempted to visit the cinemas to watch your favorite movies, it may not seem a good idea every time.
At times you merely wish to sit back with a bowl of your favorite chips, put on your most loved TV series or video and spend the weekend relaxing. But a TV screen that decreases the image quality both in terms of size and quality can spoil your mood and day.
So what can you do in such a case? Buy a projector of course! But why go for the traditional 1080p resolution projector when you can quickly get your hands on the 4K technology product pretty much at the same price? With this technology instilled in the projector, your home viewing game will surely pump up four times that of the normal viewing.
There are numerous brands available in the market which has successfully launched their 4k projectors, each one giving a fierce competition to the other one.
As much as a person is tempted to buy one for them, not every guy other there can afford them. But even amongst the most expensive of brands, few companies have used this technology to create projectors that are well within your budget.
From Espon to Sony, few labels can be seen selling great quality 4k projector to consumers at a price that is exceptionally affordable and pocket-friendly.
In a Hurry? The Test Winner Product
Optoma UHD60
Why is it better?
True 4K UHD Resolution

Flexible Zoom & Throw

Wide Color Gamut
Picture Quality
Brightness
Material Quality
Noise level
11 Best Cheapest 4K Projectors
Rank
Ratting/Shops
Ratting
Shops
Pros
Easy installation with the adjustment of keystone
4k resolution for best image quality
Improved displayable colors
4,000 hours lamp life for non-stop and tension-free viewing
2 year warranty for stress-free usage
Cons
48ms lag for gaming devices
As compared to other 4K projectors, this might be slightly higher in price
Offering resolution up to 4K UHD, this Optoma projector is a revolutionary creation. It enhances the picture quality by four times, allowing you to view images that are crisper and clearer.
It comes with REC.202 full gamut which promises to deliver displayable color better than any other projector in the market.
The built-in speaker produces loud and clear sound plus the DLP chip technology makes the projector easily adjustable. Also, the lamp inside the projector comes with a life of 4,000 hours, giving you a chance to view your favorite stuff non-stop, without having to worry about overheating of the projector.
The additional connectivity portals make it easy for you to plug in your devices and enjoy your most lovable shows or games.
Conclusion
With such great features and functions, we are sure you'll never have to go to cinema houses for entertainment. Just plug in extra speakers and see what fun is about!
2. Epson Home Cinema 5040UB
Pros
Bright 3D projection
Quieter and calmer environment for viewing
Easy keystone adjustment
2 year warranty for easy usage
Brighter and balanced displayable colors
Digital cinema mode
Cons
Short lamp life
No adaptors included for non-HDMI
48ms lag time for gaming
This best budget 4k projector is the best equipment to own right now. With technology so advanced, you get to enjoy movies and games with quality results, ensuring balanced brightness for sharp color and precise imaging.
This Epson projector is the best alternative to an expensive home theatre. The 3 LCD design allows you to operate the projector without any lag effect, so all you get is quality picture free from white patches or the "rainbow effect." Plus the keystones are present for easy adjustment, giving you complete control over it.
The projector may come with a native resolution of 1920p but can easily support the 4k technology, giving you the best shoot at alleviated home viewing experience. Plus, the built-in fan technology provides you a chance to view your favorite stuff in complete silence.
Conclusion
For quieter and more peaceful home viewing with results that are spectacular and amazing, this Epson projector makes a great choice.
Pros
Dual built-in speakers for louder sound
Compatible with various HDMI devices
Reduced motion blurriness
202 gamut provides life-like colors and balances the brightness for sharper image
Long lasting lamp life for non-stop viewing
Cons
Does not support 3D imaging
No adaptors included for non-HDMI devices
Limited warranty
Stand back and let this projector work its magic. This Acer 4k projector comes packed with some enticing features which are sure to shock you.
The high resolution produces breathtaking picture quality while the balanced brightness and contrast ratio work along to give life-like colors.
The advanced technology reduced motion blur for better viewing plus the built-in speakers amplify the sound, so all you get is to be entertained from your best TV series or games. It is easy to mount and attaches to various devices in no time, making it a great product to own.
Conclusion
When it comes to technologically advanced equipment, Acer never stays behind and works hard to produce reliable products and of high quality. This 4k projector is too a great choice especially if you are looking for an advanced projector in a minimal budget.
Pros
Built-in Bluetooth and Wi-Fi for convenient online streaming
Long lasting lamp life for hassle-free viewing
Auto keystone alignment
Built-in speakers
Various connectivity portals
Cons
Complicated to install
Limited time warranty
No HDMI connections available
With LG, your life is undoubtedly right. This pioneer of electronic items has successfully launched its projector embedded with 4K technology, designed to deliver the best results.
The colors are sharp, and image quality is crisp, so all you get is an excellent quality result for an experience that is beyond your expectations.
It comes with built-in Bluetooth and Wi-Fi with extra connectivity options, so you can easily attach your devices to it and enjoy live online streaming. With this in your possession, you'll be more than content with home viewing!
Conclusion
Because LG has introduced this projector, one can easily rely on it for great results. The price is extremely affordable so you'll get the best product well within your range.
This one comes along with wireless Bluetooth and wi-fi so you can enjoy streaming anytime and anywhere. Although it may have some fabulous features to cheer for, one may find it hard to install and also for devices that support HDMI.
You need to buy an extra cable for it. And yes, sadly it comes along with limited time warranty which might be worrisome for some people.
Pros
Sleek and stylish design
Easily mountable
2D and 3D technology
Great picture quality
Low fan noise for peaceful viewing
Cons
One may find it a bit expensive
No 3D glasses
Limited output of light
Limited time warranty
This best budget 4K projector will enhance your home viewing experience. From gaming to watching movies, now you get to enjoy your favorite stuff on bigger screen offering better results.
It comes instilled with 3D technology which takes the whole game a notch up, so all you get is fun-filled home theater experience at the lowest price.
The variable connectivity options give you a chance for stress-free connectivity while the sleek design allows you to place it anywhere in the room, for the most comfortable viewing. This projector may be inexpensive but contains features if not better than equally good as an expensive one.
Conclusion
The projector supports 3D technology but does not include 3D glasses in the packaging. Put on your favorite movies, sit back and enjoy the series on the bigger screen with amazing results, for an outstanding experience.
This projector may not be as inexpensive as one might think but is worth buying.
Pros
Remarkable 4K resolution for discs that are in 4K
In low mode, the lamp lifespan stays up to 6000 hours
Includes impressive zoom and shift lens
Amazing resolution and brightness
Cons
The throw distance requires a larger room to enable projection of a 300 inches' screen
It may be a bit expensive for a few because of the features that it offers
This 4K projector offers image clarity of superior quality. Its 3D capability lets you have a wonderful time either when you are playing games or watching movies.
It provides the comfort of your home. Offering convenience and ease, all you have to do is connect your projector to a compatible device and watch your favorite content.
Watch your games, movies, and characters come alive with the vibrant display quality and great colors that this projector has.
Indeed, this projector by Sony is remarkable as it projects a clear appearance of the picture. Having a high brightness level of 1800 lumens and a contrast ratio of 300,000:1, this 4K projector promises no visible pixels.
The picture or image result remains natural and real even if the projector is placed in an area of light. The response rate is quite quick that lets you watch every minor detail without any blur.
For instance, if you are attending an action movie, that shows fast movements and stunts, this projector displays a smooth flow that remains fluid.
Conclusion
With SXRD technology, this projector offers excellent image quality, which is four times the resolution of a Full HD. Displaying impressive, rich and vibrant colors with effective native resolution.
The projector always projects a sharp image even in rooms with the right amount of daylight. This 4K projector gives an unforgettable experience in the world of cinema and games and is a must-buy product if you're looking for smart features. It is definitely worth the price tag.
7. Epson Home Cinema 4000
Pros
Excellent brightness with no rainbow effect
Picture quality is natural
Easy to use and setup
Accessible for a great price
L*a*b* Ultra Wide Color Gamut feature
Picture in Picture feature
Excellent remote control
Cons
No separate audio connection
No HDMI cable is given
Poor contrast ratio in light controlled rooms
Slightly high fan noise at full power
No in-built Wi-Fi
Black level performance could be better
Epson's products never let us down. This Epson Home Cinema 4000 is a projector that gives 100% color brightness experience with 2200 lumens. This device that accepts 4K UHD content enables even the tiniest details to come alive.
The impressive contrast provides rich and precise details of every scene. Easy switching between the lens and zoom shift presets with the motorized lens, giving the user some flexibility of installation. With its HDR10 technology, the projector makes movies look life-like, real and extraordinary, fulfilling a filmmaker's intention.
The Epson Home Cinema 4000, called "4K Enhancement", intends to give tough competition to other projectors with SDR source material when it comes to features like contrast, brightness, and clarity.
However, if you prefer to turn off the "4K Enhancement" feature, then the projector acts as an ordinary 2K device that does not have a lens shift. The system has high color saturation and performance considering the deep black levels.
Offering impressive and uniform brightness, this projector comes with an interpolation system. Moreover, the HC 4000 is a big and heavy projector, which has more build quality and while shutting down, has no cooling down period that is fan-driven.
It has 2 HDMI inputs and three options for power consumption. Indeed, this budget-friendly projector has so much to offer.
Conclusion
Owning some remarkable features such as brightness and picture-perfect portrayal of dark scenes, this projector gives fierce competition to other projectors.
Costing a reasonable price, this projector by Epson is not just a device but a whole another unforgettable and entertaining experience. So install, play and experience.
Pros
Good brightness; but requires respectable amount of light control in the room
Sharp image quality especially with 4K content
Automatic switching in and out of HDR
5:1 Zoom lens which is reasonably good
Built in speaker that enables you to move the projector anywhere in the room
Good amount of lens shift that gives placement flexibility
Improved value proposition due to heavy discounts
Cons
The HK2288 struggles with HDR. It runs noisily at around 34dB while using the HDR lamp mode. The noise might be reasonably smooth, but you'd want to sit away from the projector.
Very bright HDR picture segments might suffer heavily with toning.
The emergency installed speaker doesn't project as well as a normal speaker does, because it might not sync with the image on the screen
Takes longer to connect to HDMI signal, notably with content that is 4K
The remote has a limited range
Lack lamp dimming which is needed for good black level performance
Lacks 3D and CFI
Vivitek is known for manufacturing and selling top-quality visual and presentation products. Their high-tech products are engineered to achieve long lasting durability and extend lamp lives.
This projector has a popular XPR technology feature and ultra-fast switching speed which enables an 8.3-million-pixel display on your screen to show a 4K-UHD resolution. This is about four times more than a 1080p or a Full-HD display.
Viviteks' HK2288 has a full HDR display, which lets you enjoy an amazing visual experience by balancing the light in the video with the eye spectrum so the image feels as realistic as it can get.
Vivitek's 4K projector outperforms in terms of its rainbow effect. This single-chip DLP version can enable red, green and blue stripes over brighter parts of an image.
The projector's high image quality under the Texas Instrument's latest switching DMD creates individual pixels, lossless 8.3M pixels, and a 4K-UHD resolution display to guarantee a smooth video performance.
It delivers a right to life color performance with a REC.709 high color standard. Its compact size and flexible placement can fit into your living room or any other room in your house.
Not to forget, it's pre-defined day and night mode according to the light condition which optimizes the image performance.
Along with 3 HDMI V2.0 inputs that ensure a high- quality connection, this projector has an anti-dust design with a sealed optical engine that prevents dust from distorting the light path projected on your screen, so the quality of your image stays perfect.
Conclusion
The Vivitek HK2288 might not be a perfect performer, but at the price you get it for, it is doing an impressive job with its HDR display.
Maybe getting the best results from this projector might require some extra effort but it is definitely worth the price.
Pros
2 HDMI inputs with 13.5 GHz speed
Black level performance is really good
Picture color and quality is very impressive
4096 x 2160 is a native resolution hard to beat
Great brightness even after calibration
Brightness can work well in non-cinema rooms
Great CFI, that makes watching sports fun
Sharp images, no dimness
06:1 zoom lens and lens shift delivers flexibility in terms of placement
The image is not distorted even when lights are on
The remote is easy to use an well made
It is quiet, even at full power
Easy to set up and cheaper than competitor's projectors
Cons
No lens memory
Can't work for gamers who want 4K 60p screen resolution
Lack of dynamic iris
HDMI with a speed of 18 GHz is a better alternative
It could use a third HDMI input.
Sony never fails to amaze us with its product range. One of the most amazing and eye-catching features is the 4K resolution. The projector has a 3-chips SXRD design that has an impressive decision.
It doesn't come with the Dolby Vision high range content just like other projectors. In addition to this, the two most incredible features of Sony's 285ES are solid contrast and very sharp image.
The projector enables you to look at even the most minor details, such as a fabric's texture or fine hair. Hence, the projector shows every aspect of the scene with utmost clarity, which lets you enjoy your time while watching a movie, game or anything.
This device comes with a brightness of 1500 lumens. There's a chance you might consider this as not too much, but the good part is that the video optimized mode adds about 1300 lumens.
Despite its low lumen rating, the projector is tremendous in portraying the perfect amount of lumen. The model comes with four options (small, medium, high, off) that have an impact on SDR sources because they develop a brightening effect when you switch any option, e.g., from off to high.
The set comes with a pretty sizeable remote control, with well-spaced buttons. The power also has a 3D feature listed. It is true that you will not find glasses in this package, but you can always get the TDG-BT500A ones from Sony.
Along with this, third-party glasses that fit with the Full HD 3D standard also work with this package. As per claim, the lamp life of this projector is 6000 hours, but in the end, it all depends on how the projector is used and how tolerant are you of the dimming.
Dimming can prove to be a problem for HDR lights, but the projector runs for a long time, no matter how many shows you binge watch.
Conclusion
This budget-friendly projector is perfect if you wish to have a great movie night. The image quality adds on to the cinema experience. Operating quietly and being useful even during the daytime, it has fantastic features that would make your movie nights unforgettable.
Pros
High definition image quality in both 2D and 3D.
High dynamic range compatibility for HDR content.
Wirelessly transmits 4k content.
Super-resolution and improved detail enhancement.
New cinema lens with 16 piece glass structure to enhance 4k performance.
Color brightness appropriate for variety of lighting conditions
Dynamic contrast ratio of 1,000,000:1
Eco-friendly
Cons
Not compatible with gaming consoles.
Disturbance created by the noise produced by cooling fans of the projector.
Even from outside Epson 5020Ube 4K is an impressive piece of technology but what's inside is what truly makes it a remarkable 4k projector under unbelievable price.
Epson 3-LCD technology offers better color production than many other 4k televisions available in the market. Usually, projectors are sold with 1000-3000 lumen bulbs. A 1000 lumen projector must be used in the dark, or the image will appear washed out.
Two thousand lumens are bright enough to use with a little ambient light. However, Epson 5020UBe is equipped with 2500 lumen bulbs which provide visibility and can be used in pretty much any home theater provided that the blinds should be closed.
4k resolution delivers images with unparalleled levels of detail. Similar to "retina" model of laptops and phones, the pixels are so small with 4k that you will be nearly unable to differentiate one from another.
The result is an image that is razor sharp, with extraordinary levels of detail. The most remarkable feature of Epson 5020Ube is the ability to produce an HDR image. The smooth and vibrant colors of the image will let you enjoy the theater experience in the comfort of your own house.
A poorly made lens can affect the quality of the image by making it dull and blurry and can ruin the overall experience of a projector.
However, fortunately, Epson 5020Ube uses 11 different all-glass components in the lens which enables it able to zoom in and out, shift the picture from side to side as well as up and down.
The image will remain crystal clear in any position. To save the trouble of adjusting it time and time again, you can save lens positions into memory. This means that you could set up a smaller screen for daily use.
Conclusion
Epson is never far behind in technology when it comes to projectors. Epson 5020UBe is offering multiple advanced features and eliminates cables and clutter while expanding connectivity through its wireless technology at an affordable price. It is perfect for people who love 4k projectors but have a tight budget.
Pros
Excellent 4K performance
Stunning color production
Unrivaled brightness
Adjustable position to enjoy the best angle to watch your films
Produce richer and detailed texture, tone and color
High Dynamic Range compatible
Can project images up to 60 frames per second
Flexibility in installation. Can install anywhere in the house.
Long lasting lamp life
Front facing fan. You do not have to worry about space to be left behind while installing it. It also helps in maximizing the throw distance.
Cons
The Sony VPL-VW665ES lamp is made of mercury, an element that is widely considered to be harmful to the environment
The price is a little high as compared to other 4K projector options available in the market.
Sony VPL-VW665ES is yet another remarkable product by Sony. It is based on the SXRD Digital 4K Cinema technology that defines Sony's most specialized projectors.
It has brilliant contrast, exceptional brightness and offers a correct native 4K resolution. Sony VPL-VW665ES also has some unique innovations like TRILUMINOS and Motion flow which help in producing sharp, detailed, bright and vibrant images.
Sony VPL-VW665ES is unpredictably easy to install anywhere in the house. It has a motorized zoom of 2.06 and a shift range with a wide lens.
The projector's position can be regulated up to 31 percent horizontally and vertically to a high of 85 percent to produce the most suitable and best angle to watch your films. It allows you to calibrate swiftly and effortlessly.
It has nine modes of picture calibration to choose from including, bright cinema, TV, game, photo, reference, digital cinema, and two cinema film forms.
On the price range, where this projector is positioned, it would be tough to find a projector that offers such a high and balanced specs.
Such products which fall into the same price bracket seem to lack a lot in the technical area which brings the product down. Luckily this projector performs well overall and enhances the user experience with its exceptional features.
Conclusion
The Sony VPL-VW665ES is one of the leaders in the mid-range projector pack. The projector also breathes new life into the standard definition and Blu-Ray content thanks to the built-in 4K up-scaler. The projector is fully HDR compatible and has 9 Calibration modes.
It is easy to set up and is very flexible which means it can adjust quickly to angle and has a viewing height you are most comfortable with; something that is lacking in other projectors of this price and size.
Buyers guide
In this buyers guide, you will get a quick overview of all the key features before buying the best projector
What is 4K?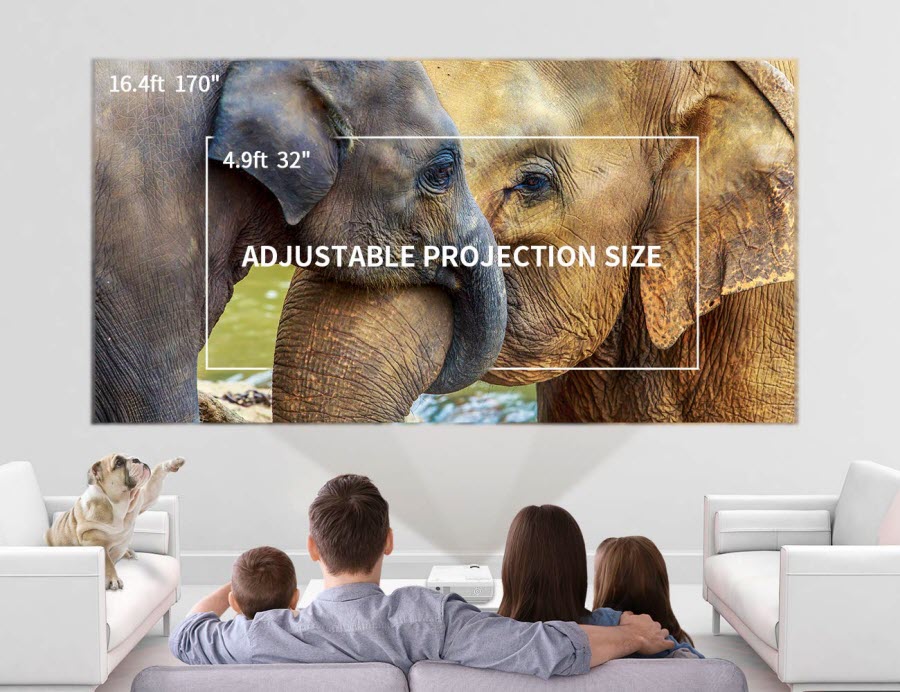 In simple words, 4K means enhanced resolution offering the highest quality images for viewing. You might have enjoyed watching movies or playing games in the full HD mood, but the 4k is known to produce pictures/images that are crisper and clearer. Sound too good to be true? But this technology has undoubtedly revolutionized the home view today.
With 4k technology, you not only get projectors supporting higher resolution but also deliver quality result with crisp images and bright colors. The life-like colors enhance your experience so whenever your favorite show is on, you can comfortably sit back and enjoy it on the bigger screen, without stepping out of the home.
What to look for in an excellent 4k projector?
Here are some tips that will help you in finding the best and most suitable 4k projector for yourself:
High Resolution
The primary difference between a 4k projector and a normal one is the resolution power. A standard projector supports resolution up to 1080p while the later one can supports files while producing images up to 4000 pixels, without distorting it. For more precise results and quality viewing, a 4k projector is surely your thing.
Brightness and Colors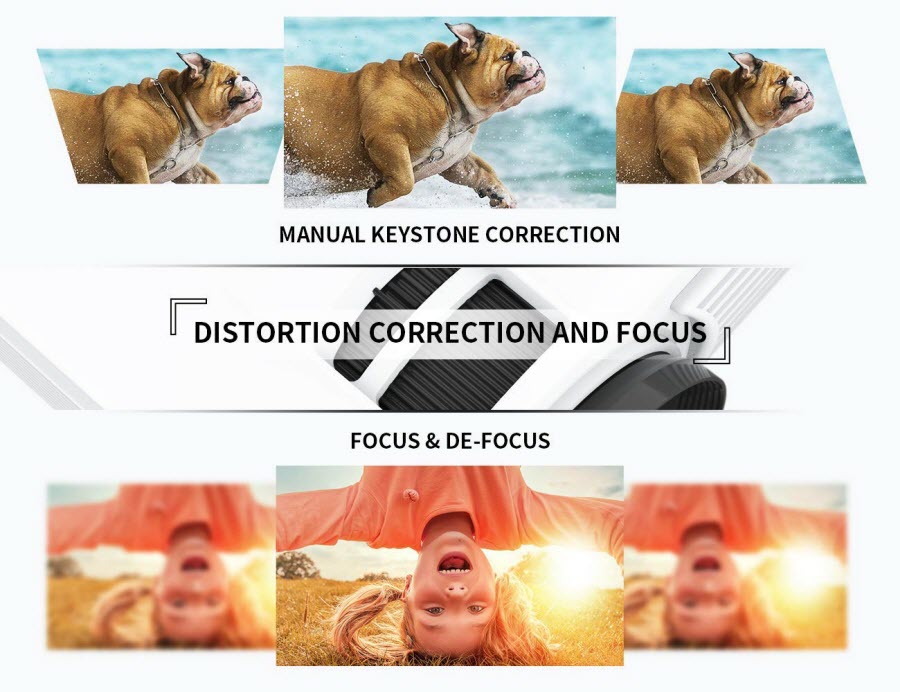 A projector that promises to support 4k will also come along with features including sharp light and clean colors. It produces sharp images with bright colors so you can get larger than life experience, much better than any expensive home theater.
Reliability
Before going out on the hunt, search online to gain feedback and reviews regarding the project that you wish to purchase. The positive feedback about a particular model will define its reliability, helping you achieve a better perspective of how long will the projectors last.
Advanced Technology
To start with, there are two types of projectors. One with DLP technology and another one with an LCD screen. The projectors that come with DLP screens may not work for longer, give you images that are crisp and sharp and also may suffer from rainbow effects.
On the other hand, LCD screen projectors are free from such problem, promising great results at every watch.
Other Best Projectors You Must Know
Final Verdict
These are only a few of the many 4k projectors available in the market, aimed at providing you with a home viewing experience much better than any expensive home theatre. If you have a limited budget with a wish to watch your favorite movies on the bigger scree, these projectors will definitely help you fulfill it.